Driscoll's partner with Global Farms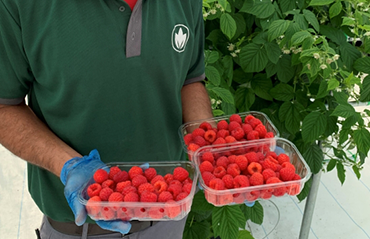 The UAE is a unique and visionary place where the impossible can be made possible, and this is what Driscoll's berry company and its local partner Global farms have achieved through its locally produced raspberry programme. Berries that deliver the same delicious taste and quality you'd expect from Driscoll's, produced right around the corner.
Paul Morgan of Driscoll's explained that the company's vision is to be the world's berry company, enriching the lives of everyone it touches as a beloved berry brand. As Driscoll's aims to be true to its vision and relevance in the Middle East, it aims to connect directly to consumers and meet today's desire for locally produced fruit to complement a year-round quality offer.
Fresh premium Emirati berries with the quality stamp of the Driscoll's brand is a winning combination. Global farms' production director commented that this is the realisation of a dream, made possible by a long-term vision and exemplary execution. "We studied temperature and climate data for more than a decade and the results are not just delicious – they provide an excellent opportunity to reduce food miles."
Emirati raspberries are available from January to March in select retail stores. This farming masterclass in Al Ain will provide perfectly pink juicy raspberries to match the Driscoll's quality standards anywhere in the world.
This initiative is another example of how to bring excitement to the category while continuously exploring new ways to raise the bar on quality and production methods.
Source/Courtesy : https://www.arabianbusiness.com/458368-driscolls-global-farms-partner-up-to-grow-raspberries-in-the-uae